Eprinomectin Injection 1%
Product Detail
Product Tags
PharmacodynamicsEprinomectin is a macrolide insecticide in vitro and in vivo. The anthelmintic spectrum is similar to that of ivermectin. The adult and larval expulsion rates of most common nematodes by subcutaneous injection of this product are 95%. This product is more potent than ivermectin in killing Archaea, Oesophagostomum radiatum, and Trichostrongylus serrata. It has 100% killing effect on the larvae of cattle skin flies and strong killing effect on cattle ticks.
Pharmacokinetics After subcutaneous injection of this product (0.2 mg/kg) into the neck of dairy cows, the time to peak concentration was 28.2 hours, the peak concentration was 87.5 ng/ml, and the elimination half-life was 35.7 hours.
It can be used concomitantly with diethylcarbamazine and may produce severe or fatal encephalopathy.
Macrolide antiparasitic drugs. It is mainly used to expel cattle endoparasites such as gastrointestinal nematodes, lungworms, and ectoparasites such as ticks, mites, lice, cattle skin fly maggots, and striated fly maggots.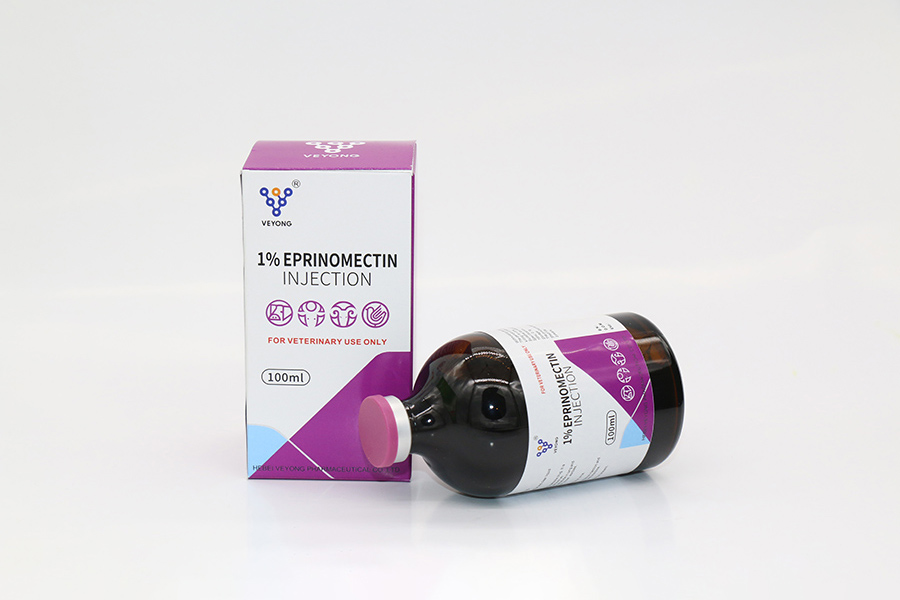 Dosage and Administration
Subcutaneous injection: a single dose, 0.2 ml per 10 kg body weight for cattle.
No adverse reactions have been observed when used according to the specified usage and dosage.
(1) This product is only for subcutaneous injection and should not be injected intramuscularly or intravenously.
(2)It is contraindicated in collie dogs.
(3)Shrimp, fish and aquatic organisms are highly toxic, and the packaging of residual drugs should not contaminate the water source.
(4)When using this product, the operator should not eat or smoke, and should wash hands after the operation.
(5)Keep out of reach of children.
1 day; the dairy cows abandon the milk period 1 day.
Sealed and stored in a cool place, protected from light.
---
Previous:
Closantel Sodium Injection 5%
Next:
Ivermectin Injection 1%
---